But they sacrificed honest reporting to rescue ratings.
The Head Groundskeeper did not fall off the tater truck yesterday. We know RITOs (Republicans in Tr•mp Only) will go to their graves believing every lie and excusing every crime in thrall to the Insurrectionist in Chief. Nancy Pelosi held the doors to the Capitol open on J6 while Ray Epps herded disguised FBI agents and Antifa activists inside. They just forgot to put out the welcome mat for Ashli Babbitt. Too bad Mike Pence didn't have the courage to do the right thing.
"It's remarkable how weak ratings make good journalists do bad things." Bill Sammon, Fox Washington bureau managing editor 12-02-20.
So head cases like Tim Ramthun, Janel Brandtjen, and Mike Gableman are lost causes. But the faucet keeps drip drip dripping and the lies keep getting harder to defend. Especially now that it is revealed that Tucker Carlson, Sean Hannity, Laura Ingraham, and others at Fox News knew better all along but lied to win viewer eyeballs. A defamation lawsuit brought by Dominion Voter Systems against Fox unearthed off-camera communications. Not that a legal evidentiary filing will sway the True Believer.
"Sidney Powell is lying by the way. I caught her. It's insane," Carlson wrote to Ingraham on 11-18-20.

Ingraham responded: "Sidney is a complete nut. No one will work with her. Ditto with Rudy." 11-19-20.

"That whole narrative that Sidney was pushing. I did not believe it for one second." — Sean Hannity. Hannity had understood that Joe Biden legitimately won the election for some time.

Rupert Murdoch, its chairman, called Trump's voter fraud claims "really crazy stuff." 11-19-20.
Some Fox executives trashed their own on-screen personalities. Fox president Jay Wallace said of then Fox Business host Lou Dobbs, "The North Koreans do a more nuanced show." Fox weekend producer David Clark: [Jeanine] Pirro is just as nuts!" Another exec: "crazy Tucker and crazier Hannity."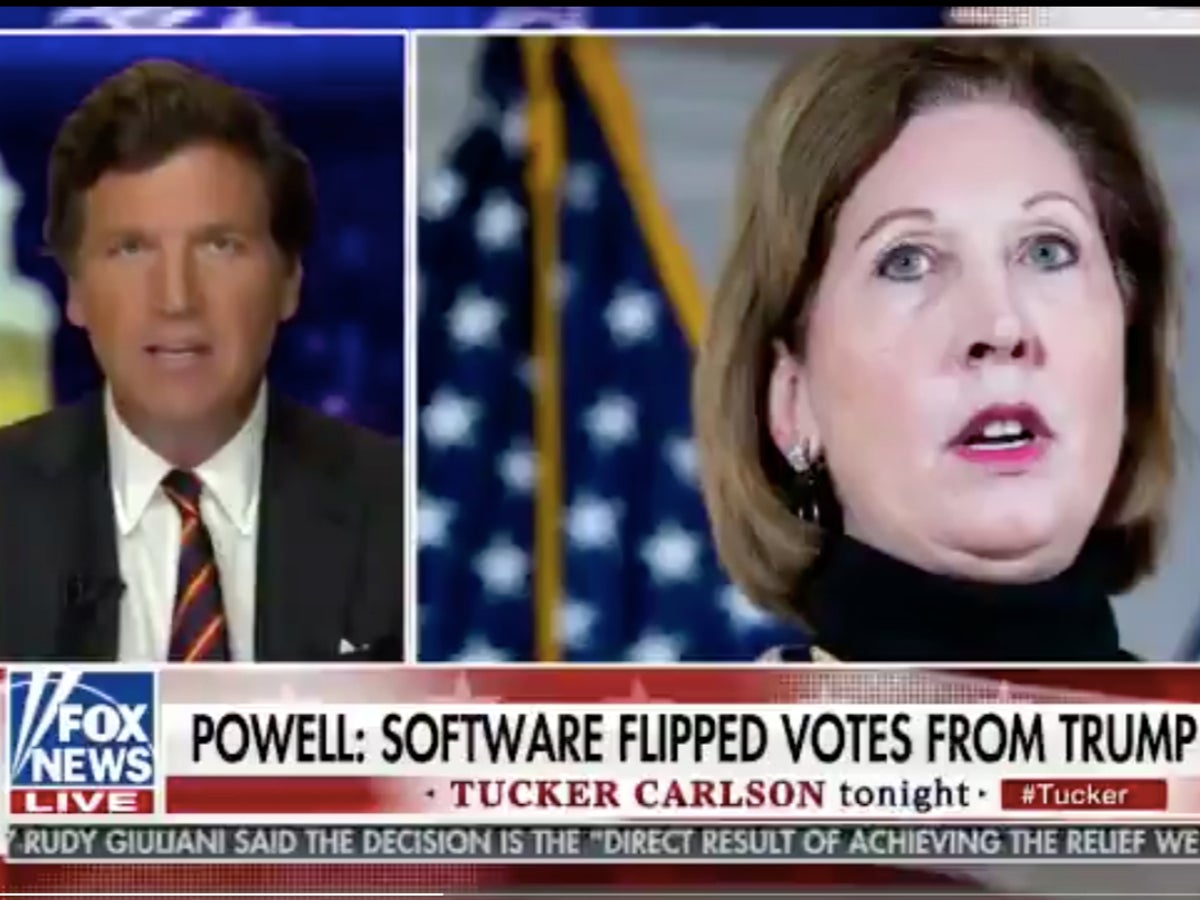 "Privately, Fox's hosts and executives knew that Donald Trump lost the election and that he needed to concede. But Fox viewers heard a different story repeatedly." — US Dominion Inc. Voting Systems v. Fox News Network.
Fox lied for ratings
Amid Trump's withering criticism, Fox's audience began switching to Newsmax and OAN. Fox tried to placate Trumpbots by firing Chris Stirewalt, even though he correctly called Arizona for Biden on election night. The cable news network ignored Dominion's offers of evidence to cater to its Tr•mp-besotted audience. They kept giving screen time to stolen election fabulists like Mike Lindell. Tucker Carlson even wanted reporter Jacqui Heinrich fired after she reported no basis for doubting Dominion voting machines.
"Please get her fired. Seriously… What the [f-bomb]?" Carlson texted Ingraham and Hannity on Nov. 12, 2020. "It's measurably hurting the company. The stock price is down. Not a joke." Late on January 6, Carlson texted …. that
"Trump is a demonic force, a destroyer. But he's not going to destroy us."
(A few at Fox come off well, including Bret Baier, Dana Perino, Neil Cavuto, Lucas Tomlinson, and Chris Stirewalt.)
Blaska's Bottom Line. Go to the source itself: the Dominion court filing. Libel and defamation are hard to prove; must show 1) falsehood 2) malice and 3) actual damages. The Dominion lawsuit checks all three boxes. The "crooked voting machine" gambit was always absurd. And no, Dominion was not founded by Hugo Chavez. Even Fox acknowledges that.
Our Republican party loses too many elections by tying its fortunes to a narcissistic liar.