like the longhorns of Texas!
One of our platinum subscribers predicts that "November will be the RINO hunt." That's the epithet — "Republicans In Name Only" Trump bitter enders give for those of us who refuse seconds on the Kool-Aid.
Turns out RINOs have sharp tusks, judging by the primary election results Tuesday 02-01-22 out of beet-red Texas. The RINOS routed the RITOs (Republicans In Trump Only).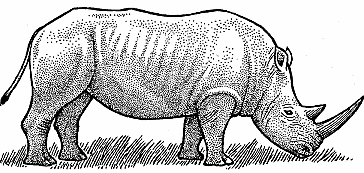 U.S. Rep. Chip Roy received over 80% of the vote in Texas' GOP primary. The congressman condemned the January 6 (2021) Trump insurrection, thereby incurring the Mar-a-Lago oligarch's wrath four months later:
"Chip Roy … has not done a great job and will probably be successfully primaried in his own district."
Probably not! In another Texas congressional primary, former Navy SEAL Morgan Luttrell, backed by House Republican leadership, had a big lead over Christian Collins, the hard-right candidate backed by Trump-bots Marjorie Taylor Greene and Madison Cawthorn. Representative Dan Crenshaw — the military veteran with the eye patch — won three quarters of the vote in suburban Houston over his RITO opponent. Crenshaw denounces the lie that the 2020 election was stolen. Governor Greg Abbott easily beat Trump secessionist Allen West, former Texas party chairman.
Most embarassing of all to the cause, despite an endorsement from former President Donald Trump, Attorney General Ken Paxton — with the advantages of incumbency — failed to garner enough Republican support in Tuesday's GOP primary to avoid a runoff. Against a member of the Bush dynasty (although Paxton was leading 43% to 22%)!
Was this the biggest nothing ever?
Now that Michael Gableman has peed on the fireplug, can we move on? The former state supreme court justice recommends dismantling the Wisconsin Elections Commission. Republicans created the WEC after outrage over its predecessor's role in the John Doe II pre-dawn raids on Republican activists. So who would run elections? Give it back to Doug LaFollette at Secretary of State?
Gableman's greatest outrage is to feed the fantasies of the Trump tribe. The legislature "ought to take a very hard look at decertifying the state's presidential election." Now, how would that work, class? Based on … what? There's no Do-Over in the U.S. Constitution. You could look it up.
Robin Vos isn't going to rescind the election and his Republican caucus won't, either. Trump under-performed Republican candidates in all eight congressional districts — not just in Madison and Milwaukee but in West Bend, Wausau, and Walworth, too. Election conspiracy theorist Timothy Ramthun of Campbellsport will lose his bid for governor in the Republican primary this August.
Who are these masked men?
Took a meal at a favorite Laotian restaurant on Atwood Avenue Tuesday 03-01-22 — the first day Dane County lifted its face mask mandate. The restaurant's staff was masked. Its many take-out customers, also masked. Every second person walking by outdoors on the street, masked. Outdoors on a 45-degree day!
https://www.facebook.com/1623070214/videos/3084680888504579/
Blaska's Bottom Line: Go Badger bucket boys!