and it's bipartisan

Fireworks are 'about to start'
The latest conspiracy theory is that the Deep State set off the RV bomb in Nashville on Christmas Day 12-25-20 to deny Trump the presidency. God, they're good!
The bomb went off in front of an AT&T switching station. According to the bitter enders, Dominion voting machines were being "audited" there. Somehow. Why voting machines would be audited in deep red Tennessee, instead of a contested state, is a good question. Another question is whether AT&T audits voting machines at all. At a switching station. And who would have ordered the audits? But why would a news source as reliable as "Tiger Droppings" make up such a story?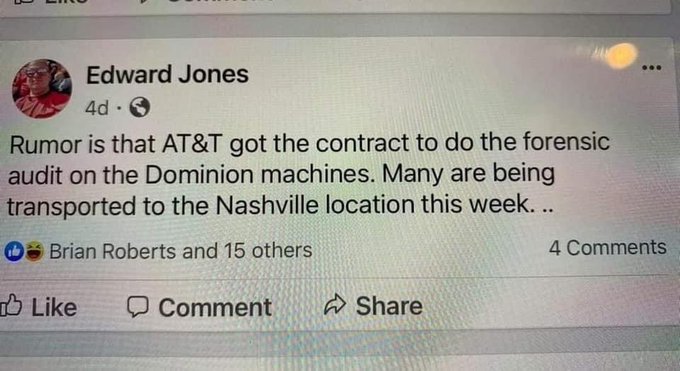 Another intrepid conspiracist finds six degrees of separation that don't involve Kevin Bacon. "AT&T building that was bombed in Nashville has connections to Dominion." Very tenuous connections. Russell Crowe in the movie A Beautiful Mind kind of connections. Using colored yarn. Consider the source: a website called Wanda We Love Trump.
Our progressive acquaintances are no less paranoid. Spotted on Quora: "Could the car bomb in Nashville be the beginning of Trump's plan to declare martial law and stay in power?"
More fireworks?
Meanwhile, question is which U.S. Senator (if any) on January 6 challenges the legitimacy of the November 3 results. Betting is on Tommy Tuberville of Alabama, who will be newly seated.
Second question is what does Vice President Mike Pence do as he presides over the Senate? "Trump (supposedly) is pressing the veep to just declare Trump/Pence the victor. Which is beyond parody.
Allahpundit reports that "Pence is hoping for a low-key Jan. 6 and is not planning any unnecessary drama." He predicts Pence will find an excuse not to preside over the session, leaving it to Chuck Grassley.
Ol' Sparky's prediction: In a 52-48 Republican/Democrat(ic) Senate (IF both Georgia Republicans win), Biden/Harris will be certified the winners.