Buy John McWhorter's book!
John McWhorter is but one of many black conservatives who do not get one-tenth the attention of a self-aggrandizer (and tax cheat) like Al Sharpton. But The New York Times is beginning to pay attention. McWhorter is up with a piece headlined "What's missing from the conversation about systemic racism." An excerpt that you won't find in The Nation, The Capital Times, or MSNBC: 
'The Cops and Black People 101' story — that police officers casually mow down black men while letting white men pass with a summons or a slap on the hand — doesn't hold up. Many more white men than black men die at the hands of cops. We just don't hear that part of the story very much.
McWhorter famously called out UW-Madison Chancellor Rebecca Blank for disappearing famous alum and civil rights advocate Fredric March. ("Winnowing but not sifting.") Professor McWhorter teaches linguistics, American studies, and music history at Columbia University. He is coming out with a new book that should be on every alder's desk, every school teacher's night stand, and incorporated verbatim in the Democrat(ic) party platform. The book title tells the tale: Woke Racism; How a new religion has betrayed black America." 
It's due out October 26. Pre-order it here. Woke Racism writes the epitaph for critical race theory and all its manifests, at its worst expressed as Defund (or Reimagine) the Police. Publisher Penguin Books/Random House toots its own horn for Woke Racism: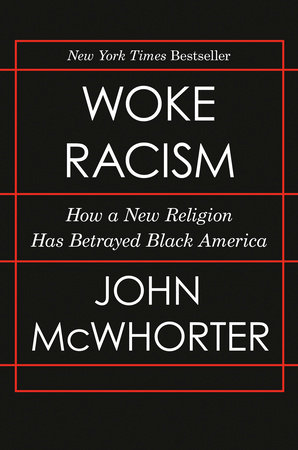 John McWhorter argues that an illiberal neo-racism, disguised as antiracism, is hurting Black communities and weakening the American social fabric. Americans of good will on both the left and the right are secretly asking themselves the same question: how has the conversation on race in America gone so crazy? We're told to read books and listen to music by people of color but that wearing certain clothes is "appropriation." 

We hear that being white automatically gives you privilege and that being black makes you a victim. We want to speak up but fear we'll be seen as unwoke, or worse, labeled a racist. According to John McWhorter, the problem is that a well-meaning but pernicious form of anti-racism has become, not a progressive ideology, but a religion — and one that's illogical, unreachable, and unintentionally neo-racist.

In Woke Racism, McWhorter reveals the workings of this new religion, from the original sin of "white privilege" and the weaponization of cancel culture to ban heretics, to the evangelical fervor of the "woke mob." He shows how this religion that claims to "dismantle racist structures" is actually harming his fellow black Americans by infantilizing black people, setting black students up for failure, and passing policies that disproportionately damage black communities. The new religion might be called "anti-racism," but it features a racial essentialism that's barely distinguishable from racist arguments of the past. 
Blaska's Bottom Line: The charitable arm of Blaska Policy Werkes is sending a copy to Rebecca Blank, postage due.
Who else should read this book?