Woke politics is the problem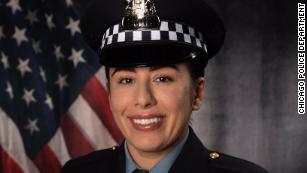 Chicago police have had enough. One expects the populace got there months ago after the latest killing, a 29-year old, female police officer. Ella French was shot to death and a fellow officer is fighting for his life after a traffic stop Saturday 08-07-21. She is one of 169 law enforcement officers killed in the line of duty through August 10, according to this source; 33 of them by gunfire.
Chicago Mayor Lori Lightfoot paid a visit to the hospital where the critically injured officer is being held, but she was met with about 30 officers turning their backs on her, the Chicago Sun-Times reported on Monday.
---
---
While progressives and their enablers in the Democrat(ic) party wage war on police, the people of Chicago — and now those who defend them — are dying. 445 homicides so far in 2021, 446 during the first seven months of 2020. Both way up (53%) from 2019, when 290 people were killed.
Get this: Chicago police are handcuffed by three — count 'em — three oversight boards. First, in 1960, the equivalent of Wisconsin's police and fire commission. Then in 2014, a Civilian Office of Police Accountability board (like the one established last Fall in Madison WI). It now has 150 employees and a $13 million budget. This summer, a new police-commission system that (National Review writes) "could charitably be described as convoluted and will operate alongside the CPB and COPA rather than supplanting them."
"It's past time to stop this, you know, imbalanced treatment of police officers here in Chicago and everywhere in this country," police Superintendent David Brown said Monday press conference. "We're flawed. Just the like the media gallery is flawed. Just like every profession in our country is flawed … But they go down dark alleys none of you would go down to protect you."
Blaska's Bottom Line: Chicago police know wherein lies the problem. So do Madison's.