'The path of the righteous man is beset on all sides …'



"It was a Black Lives Matter Groundhog Day," writes Kyle Smith at National Review of Suunday night's 04-25-21 Oscar telecast.
"If a single five-minute period went by without someone reminding us of something horrible, I guess I missed it. When your comedy highlight is Glenn Close's butt dance, you've got a little problem."
When will Dr. Fauci tell America it's O.K. to laugh again? The Academy of Motion Picture Arts & Sciences gave its best acting awards to two white people who had won before instead the six (out of 10) persons of color nominated, including sentimental favorite, the late Chadwick Boseman.
Instead we watched Pulp Fiction on the flatscreen and was blown away by Samuel L. Jackson, especially his bravura closing scene in the cafeteria dealing with the Ringo and Honey Bunny and a trigger-happy Vincent Vega. Holding his gun on the two white robbers:
"Normally, both your asses would be dead as f**king fried chicken, but you happen to pull this s**t while I'm in a transitional period so I don't wanna kill you, I wanna help you. But I can't give you this case, it don't belong to me. Besides, I've already been through too much s**t this morning over this case to hand it over to your dumb ass."
Pulp Fiction is that rarity — a crime/action movie that is also a comedy that ventures into introspection as much as The Razor's Edge. Seen it many times but took away extra layers of meaning Sunday. (Jackson lost to Martin Landau for Ed Wood in the best supporting category 1995.)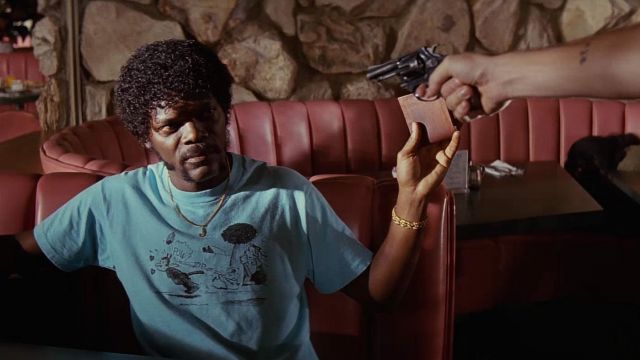 'The truth is you're the weak. And I'm the tyranny of evil men.
But I'm tryin', Ringo. I'm tryin' real hard to be the shepherd.'
Ma'Khia's knives
Thanks to our friend Earl Kielley, who a good 30 years ago served on the Madison school board when teachers still taught reading and writing, not critical race theory. Earl alerts WI State Journal readers that Freedom Inc. wants teachers to sign their pledge to:
Stand as an advocate and witness for students and parents threatened by any law enforcement agency" and "not to call police on children." Also, not to call police on children for fights.
Freedom Inc. makes no exception for children threatened by Ma'Khia's knives. She was black and cop was white. That simple STUPID. Would like to know how many teachers have signed the pledge — an attempt to supersede official district policy, although probably not by much. Freedom also tried to jam police phone lines demanding a police officer be fired, WKOW-27 reports.
Making the same point we have made, Andrew McCarthy reports:
Not a shred of evidence was introduced at the trial that Derek Chauvin is a racist. None. … The prosecutors who aggressively urged the jury to convict Chauvin of murder never intimated that racism played any role in the crimes. They convincingly argued that he was a bad cop, not a racist cop. The police did not hunt down George Floyd. … Instead, the police responded to a citizen complaint.
Critical race insanity
On September 22, 2020, President Trump issued Executive Order #13950, "Combatting Race and Sex Stereotyping."
This ideology is rooted in the pernicious and false belief that America is an irredeemably racist and sexist country; that some people, simply on account of their race or sex, are oppressors; and that racial and sexual identities are more important than our common status as human beings and Americans.
Blaska's Bottom Line: That common sense order was revoked by President Biden on his first day in office.