---
Just wow, if the U.S. Supreme Court actually is about to overturn Roe v. Wade and its companion Planned Parenthood v. Casey. We agree that Roe was "wrongly decided." Courts cannot legislate desired outcomes by judicial fiat. The actual decision won't be announced until summer but its impact on every federal and state election — right down to the state assembly — is genormous! 
---
They're very old now, the Henry Wallace Democrats who believe to this day that the Cold War communist spy Alger Hiss was innocent. They share the same clean white room with those who insist the moon landing was staged, that LBJ whacked JFK, that O.J. is innocent, that the Twin Towers were imploded from within, and that Donald Trump won the 2020 presidential election.
"The theft of an election is finally being exposed!" exults Waukesha County Republican factotum Keith Best. Finally, the rapture! After the quest for bamboo ballots, the expertise of the My Pillow guy, and Hugo Chavez conspiracies, after 61 courts of law and Trump's own Justice Department — after all that went POOF! Suddenly PROOF!
It's all recorded in the video 2000 Mules — "mules" referring to third parties who ferry illegal narcotics on their person.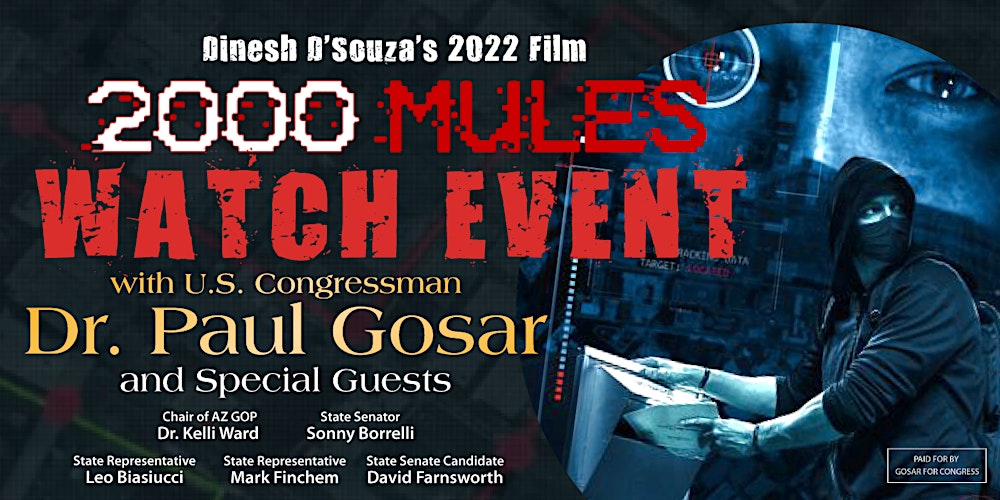 With Paul Gosar? That should be a clue of its own!
Conservative activist Dinesh D'Souza bases 2000 Mules on geo-tracking from smart phones to locate activity at outdoor ballot drop boxes of the kind used here in Madison WI. An organization known as "True the Vote" noted that  some people kept returning to the vicinity of the boxes, thereby activating the conspiracy virus. Who Are These People?!!!
Wisconsin Republicans are right to ban unattended drop boxes and ballot harvesting. But it is a jump, reporter Philip Bump analogizes, to conclude that the ballots themselves were fraudulent. "If he has evidence of this, he's cracked the voter-fraud thing wide open. Except that he doesn't. Even True the Vote doesn't allege that the ballots themselves were fraudulent. … When two True the Vote representatives testified in front of a Wisconsin legislative committee, the group's Catherine Engelbrecht said so publicly:
"I want to make very clear that we're not suggesting that the ballots that were cast were illegal ballots. What we're saying is that the process was abused."
Reporting that late March 2022 hearing, the Wisconsin State Journal reported: The group declined to make its data available, making it impossible to assess its validity. Many drop boxes may have been located in central locations, like a city hall, near apartments or restaurants, frequented by the public, the WI Elections Commission noted.
Rather than pierce the boil of a stolen election …
Assembly Speaker Robin Vos tried to placate RITOs (Republicans In Trump Only) by appointing election conspiracist Mike Gableman to "investigate," hoping that he would flame out as did the Maricopa County investigation. Instead, Vos is taking incoming from both sides.
In "The Republican plot to lose Wisconsin," The Wall Street Journal scolds, "Michael Gableman isn't a secret Democratic double agent, but he's sure acting like one. … Their priority ought to be beating Democratic Gov. Tony Evers."
Wisconsin's 10 electoral votes for President Biden were counted on Jan. 6, 2021. There is no mechanism to nullify them. A resolution to "decertify" is akin to a voter shouting at the end of the bar at 2 a.m. that his 2020 ballot is hereby rescinded.
Blaska's Bottom Line quotes the WSJ: "Mr. Trump lost Wisconsin in 2020 on his own, and if Republicans keep chasing ghosts, he will also help them lose in 2022."
How great will be the opprobrium for whomever leaked
the impending abortion decision?