Would you like to be?
The nation's highest court is hearing two cases challenging racial admission preferences at Harvard and North Carolina universities. Even Ol' Sparky has lost track of the race-based lawsuits churning through our courts. (A partial list.)
Grok the bureaucratic racial spread-sheeting (the Irish pronunciation): Harvard admits 56.1% of black applicants (fifty-six point ONE!) in the top academic tenth percentile compared with 31.3% of hispanics, 15.3% of whites and 12.7% of Asians. A black applicant in the fourth-lowest decile, the Wall Street Journal reports, "has a higher chance of admission (12.8%) than an Asian American in the top decile."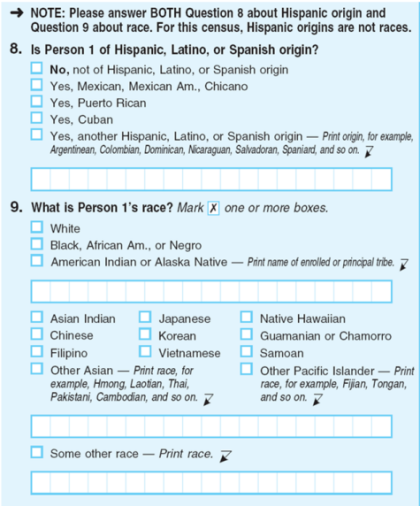 "Guamanian or Chamorro? How about 'None of the Above'
What does it tell you that the primary racial problems in America today are two-fold? Reverse discrimination by government and institutions, for one. The other is the progressive tendency to substitute race for behavior.
The solution to all this is to ban, prohibit, outlaw, forbid and penalize any and all governmental references to race. At one swell foop, America becomes officially race blind. The racial make-up of jail "residents"? Irrelevant. If you're beating classmates or shooting up the neighborhood, what difference does race make? Not even Derek Chauvin was charged with a hate crime — but aren't all crimes hateful? Or do assailants love their victims?
How to kill identity politics 
The place to start is the next U.S. Census. Quit asking race. Want to follow the science? Race is more religion than science. Even the Census Bureau admits, "An individual's response to the race question is based upon self-identification."
Yes, race is used to assure majority minority legislative districts. Got to stop. People with dark complexions are not monolithic. It is racist to think otherwise (not that it stops Democrats.) The Civil Rights Act of 1964, after all, bans racial discrimination "under any program or activity receiving federal financial assistance." For good reason, the high court in 2013 rescinded pre-clearance approval of voting laws in nine southern states. (Which Democrats wanted to restore in their scuttled Vote Back Better bill.) After 50 years, the medicine out-lasted the disease. Just ask Tim Scott, elected a U.S. senator in the birthplace of the Confederacy. As a Republican with a dark skin tone.
What is Tiger Woods, except one helluva great golfer and dangerous driver? If our progressive … acquaintances are intent on self-identification, perhaps Rachel Doleazal really is black! Who is anyone — her parents included — to say nay? (Maybe the horse she rode in on.)
Chief Justice Roberts' Bottom Line: He said it in 2007: "The way to stop discrimination on the basis of race is to stop discriminating on the basis of race."
When 

are

 we going to quit asking about it?