A bee hive of buzz words
Michael Johnson has been walking the hallways and sitting in the classrooms of Madison's troubled public high schools, along with volunteers from his Boys & Girls Clubs of Dane County.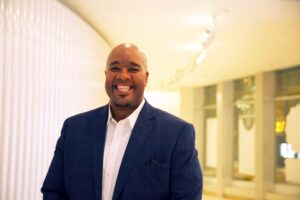 Speaking Monday via Zoom, Michael Johnson called on the Madison school board to restore school resource police officers that they had jettisoned in summer 2020. But the school board never got around to forming the ad hoc committee that it had advertised would study school safety. As if school safety needed more study. Here is Michael Johnson:
I firmly believe our schools need mental health officer, counsellors, parent outreach workers and school resource officers to keep schools safe and make sure our kids are learning in a safe environment. In an ideal it would be great not to have school resource officers but we don't live in an ideal world. …
An argument for SROs is that, being embedded in their schools, they got to know the students and could anticipate trouble before it boiled over like the fights at East high school, when police had to be called in from outside. Johnson continued:
It is dangerous to have police officers who don't have relationships with students responding to school-related incidents without having a group within the schools who can work with them prior to them entering into our buildings. I have learned many of the major incidents happening in our schools are issues arising from community-related events that sometimes spill into our schools.

Our schools need intel and community-related navigators who can work with law enforcement officials and school personnel to mitigate issues before they escalate in schools, especially in our middle and our high schools.

If our community ever experiences a shooting at one of our schools we will be pushing and begging to put police officers in our schools.

I know there are disparities around disciplinary issues and this should be monitored and addressed.
Reimagining safety
Otherwise, Monday's school board meeting was a bee hive of Woke buzz words — a mutual exoneration society for the chaos these seven have wrought in our public schools.
"We're in the middle of doing this work," member Christina Gomez-Schmidt pleaded. "We have added a restorative justice coordinate for each high schools. There is a need for mental health support, counsellors, trusted adults …" But not school resource police officers, apparently.
Instead, the school board seemed to blame the Covid-19 pandemic. "What is safety after a global pandemic?" school board president Ali Muldrow asked. We're surprised global climate change not indicted.
Member Savion Castro heard what he wanted to hear. "It suggests students take a health and safety approach to student violence rather than a law enforcement approach."
Blaska's Bottom Line: The school board repeated like a mantra that "It's going to take everyone from the community to … to … do what??