No books or poetry could protect it

.
Twelve thousand years ago, a melting glacier deposited a boulder between two lakes it created during last continental ice age.
On 08-06-21, the University of Wisconsin loaded that 42-ton rock on a flatbed truck because a smattering of grievance studies students demanded it. Why? Because someone in 1925 used a racial epithet to describe it. (More here.)
Babylon Bee could not parody Woke cancel culture more mercilessly. Banishing a big dumb rock from campus? Too outrageous for Mel Brooks! Never mind Animal House, this comedy is its own real-life satire.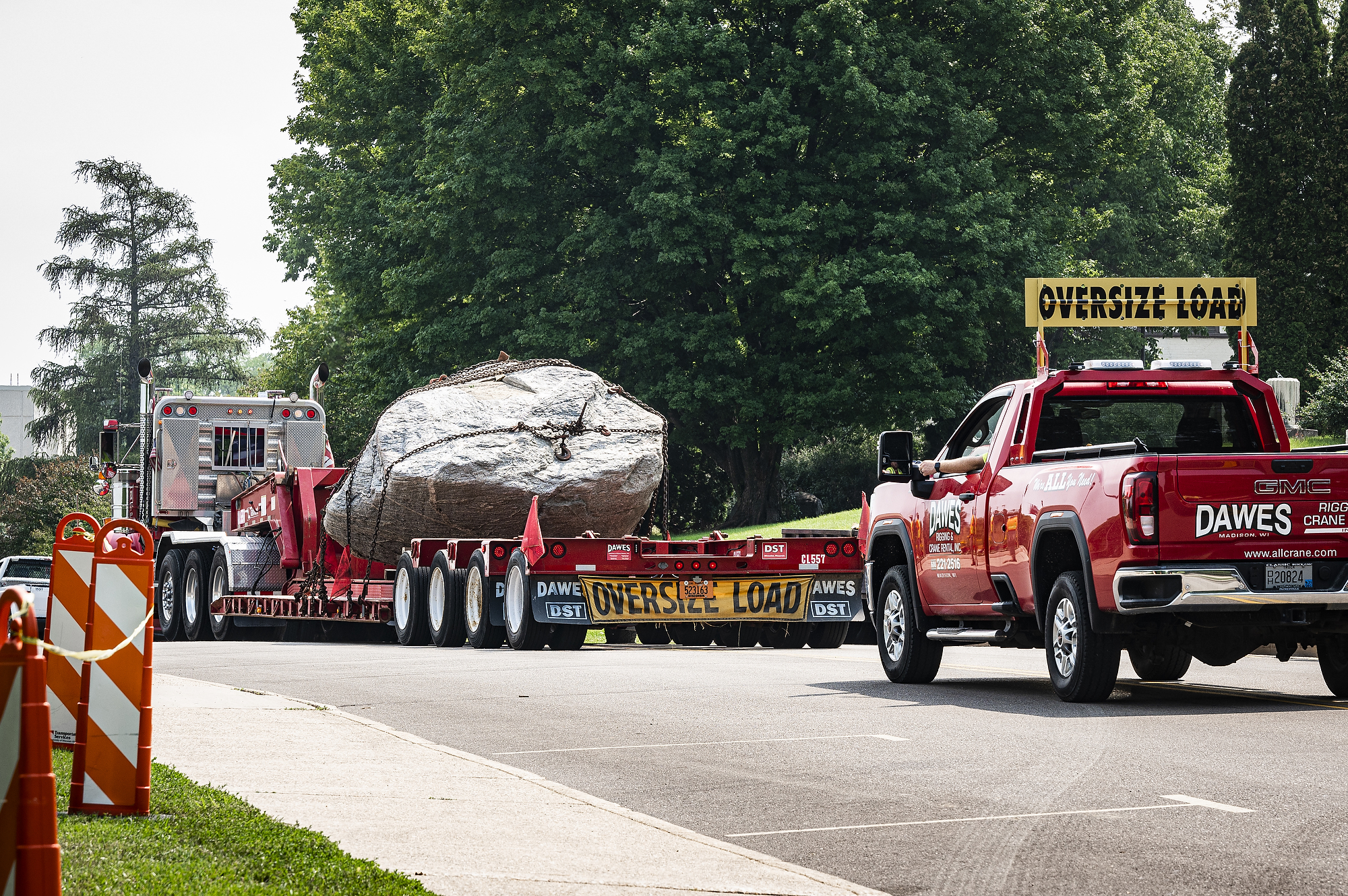 Chamberlin Rock being hauled away
Creator: Bryce Richter | Credit: University of Wisconsin-Madison
Copyright: Board of Regents of the University of Wisconsin System
Cowardice in motion
It took academic John McWhorter in the New York Times (of all places!) to pull back the curtain on snowflake culture. (The Columbia U prof describes himself as" a cranky liberal Democrat.") Perhaps because McWhorter is "a man of color." All praise Ann of Althouse for pointing to McWhorter's essay: "The performative anti-racism of blackstudents at the U. of Wisconsin:"
The Wisconsin rock episode was a textbook demonstration of the difference between sincere activism and play acting…

The true fault here lies with the school's administration, whose deer tails popped up as they bolted into the forest, out of a fear of going against the commandments of what we today call anti-racism, which apparently includes treating Black people as simpletons and thinking of it as reckoning.

True wokeness would have been to awaken to the tricky but urgent civic responsibility of, when necessary, calling out Black people on nonsense. Yes, even Black people can be wrong…. Likely: the authorities caved in so that students wouldn't call them racists on social media. This entailed a basic dismissal of these students' mental and moral capacity."
---
'The students are fashioning their take on the rock as a kind of sophistication or higher awareness. But what they are really demanding is that we all dumb ourselves down.'
— Prof. McWhorter
---
Blaska's Bottom Line: In other words, it was a teachable moment. We get the impression that Chancellor Blank would sing I'm a little tea cup short and stout at half-time at Camp Randall if the Black Student Union demanded. Credit Phil Hands' editorial cartoon in the Wisconsin State Journal, but where are the other thought leader in Madison WI?