Or Captain Spaulding?
The head groundskeeper will acknowledge what some of you have long suspected: Blaska is something of a contrarian. A dash of occasional apostasy keeps the juices flowing. American politics have become too tribal, anyway. Which is why we give Tony Evers his due.
Wisconsin's governor (a known Democrat) wants to tear down GEF-1, that brutalist monstrosity (aren't they all?) on Madison's E. Washington Avenue housing two state government agencies. Even in the 1990s, when Blaska enjoyed a private office on the top floor with a fantastic view almost to Jefferson County, the general consensus among its inhabitants was "swing the ball."
It was a relic of its times (1971) when government buildings were built to withstand frontal assaults from the SDS Weathermen and nuclear attack from the Soviet Union. Straight out of Stalingrad, GEF-1 squats on an entire block two blocks NE of the Capitol. Windowless concrete walls glower onto the street, interrupted by a cascade of steps that would daunt a mountain goat. (GEF stands for general executive facility. It's a "facility" not a building!)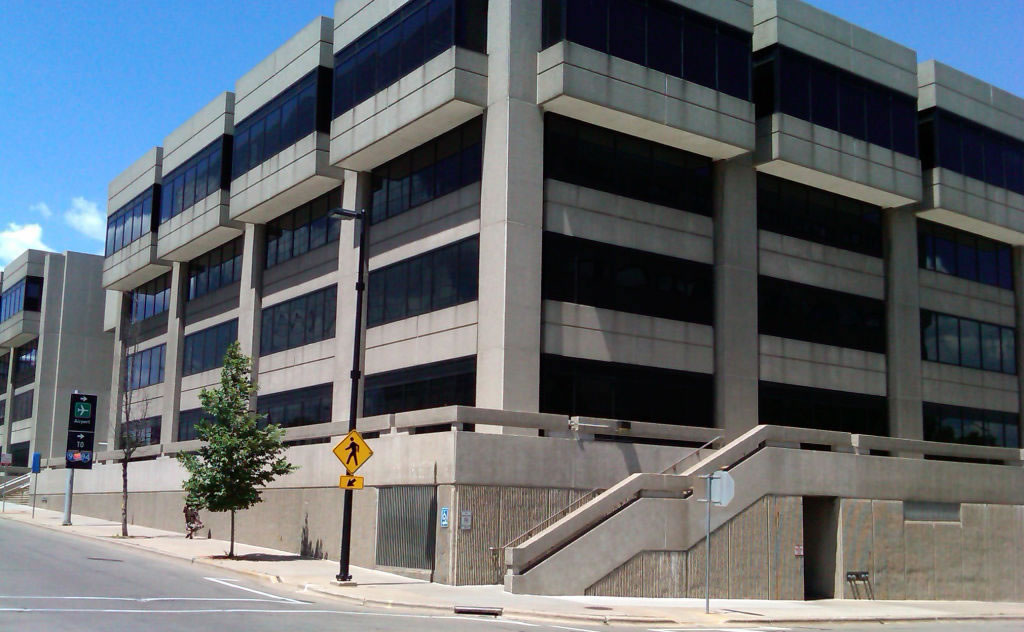 GEF-1 Madison; mass without class 
Tony would replace it with two light and airy structures, side by side, housing the state historical and state veterans museums. Well done! (Dean Mosiman has a full accounting at the WI State Journal.)  
More intriguing, thought is being given to repurposing the glorious granite art-deco state office building at 1 W. Wilson into high-end condos or private sector offices. It houses the Department of Health. Blaska also inhabited an office there with actual, operating windows out of which one could view Lake Monona. It was the very first state office building when the first section (nearest the walkway to Monona Terrace) was built 1929 to 1931 — only a dozen years after the current State Capitol. And THAT was intended to house ALL of state government. (Did not account for the progressive growth of gummint.)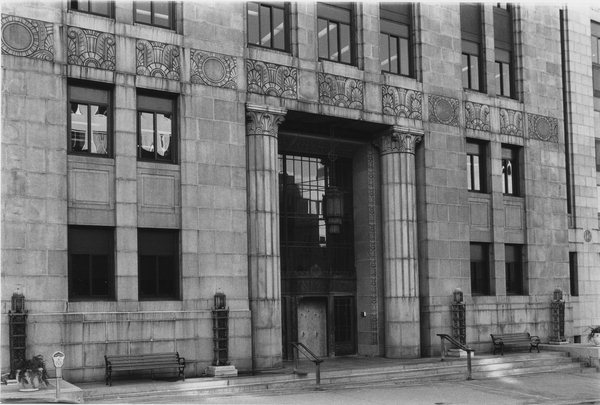 'Stylized torches belching terra cotta flames atop the tall pilasters and the stylized shields and acanthus leaves studding the window spandrels.' 
The 11-story state office building at 1 W. Wilson (with 4 more stories underground) wears its size well, unlike GEF-1. (Good history here. https://www.dhs.wisconsin.gov/1ww/history.htm Did not know a vault with two-foot thick walls existed on floor B3, supposedly to store guns and booze confiscated during Prohibition!)
Still recall the sweet smell of what we presume was floor polish on the actual marble floors. The building's bronze doors still gleam. How has the building eluded a proper name all this time? Are there no heroes of WI government? I nominate Orland Loomis, a Progressive who died age 49 before he could be sworn in as governor after the 1942 election.
The 10-story Department of Administration Building at 101 E. Wilson Street may also be on the block. Again, great views of Lake Monona. Prime downtown real estate. Put a restaurant on the first floor.
Blaska's Bottom Line: Gov. Evers wants to a) consolidate state offices and b) reduce the state's physical footprint by 10% thanks to the increasing ease of remote working. That would allow c) more state employment outside greater Madison (sounds downright Republican!) and d) build more beautiful. That sounds Enlightened!