Riding out the storm!
The indentured servants at Stately Blaska Manor are battening the hatches. Stockpiling provisions. Girding for the big one.
The b&w rabbit-eared Philco advises that the Emerald City here in southern Wisconsin is under a winter storm watch. Bracing for 6 inches of snow and 50 mph winds starting Thursday 12-22-22, culminating in a deep freeze on Christmas eve with wind chills of 20° below zero F.
Even the unlettered field hands are hunkering down (the only direction in which one can hunker) in the basement, like the Osceola Brothers and their tribe during the hurricane in Key Largo. (Can you hold it down, down there? We're trying to blog!)
What is it about the human psyche that relishes going into survival mode?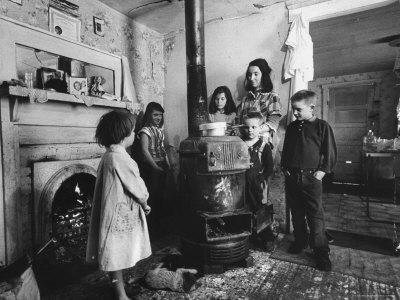 A little existential danger sharpens the senses. Triggers the survival instinct! Is it why Harvey Firestone, Thomas Edison, Henry Ford, and President Warren Harding took up camping? The more gilded, the greater the impulse to rough it? (They brought their servants, anyway.) Is danger a Darwinian pop quiz?
We're not going to butcher an oxen and crawl into its viscera like Max Von Sydow did to save his child during a Minnesota blizzard, as portrayed in The Emigrants. But we are searching for the mates of the three left-handed gloves in the hallway drawer. We are so vexed!
The fire box is piled high with 16-inch fireplace wood. Bag of discarded political campaign literature to coax the burn. (Not that we expect our underground natural gas lines to freeze up.) Before beddie bye, the unpaid servants shut the venetian blinds to retain heat. Basement window wells covered. Bird feeders filled. The engine block heater on the little FIAT 500c is live, not that we intend to venture outside the stable in this weather!
Recalls growing up on the farm east of Sun Prairie during similar winter storms. More than once, motorists abandoned their vehicles and sought refuge at our dinner table until the storm blew over.
No panic permitted at the Policy Werkes!
Robert Baden-Powell, the English soldier who founded the Boy Scouts, said it: "We are always in a state of readiness in mind and body to do our duty." The ill prepared can raid Woodman's and HyVee like ravenous carpenter ants. We drank their milk shake!
For that, we can thank the Lovely Lisa. Her hobby seems to be grocery shopping. Shops three different supermarkets to get that special cut of beef here and save a dime on that carton of half & half there. Result: our larder is groaning with enough provisions to feed Somalia. Assorted cans of Sunsweet® prune juice have awaited irregular emergencies for going on 30 years now. Cans of coconut milk will have to languish until yet another summer's pina colada. One drawer alone is jammed with eleven 8-ounce bags of Wonderful® brand roasted and salted pistachios. (We counted.)
Blaska's Bottom Line: If the blizzard demands our surrender, we will give the same answer as that general in the Battle of the Bulge: "NUTS!"