We'll get into the true Christmas spirit probably around 10 p.m. on December 24 — later, if they keep playing those sappy Hallmark movies. In the meantime, we're playing Eartha Kitt's Santa Baby on the jukebox. ("Another thing: a ring!") Despite our express orders, the indentured servants have put up the Christmas tree — and we do mean "UP!" At least, Enzo the Magnifi-cat won't get into it this year.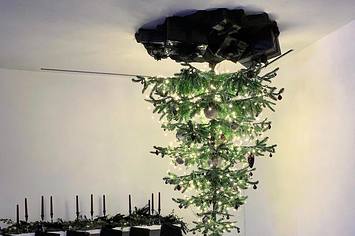 Here are 12 13 can't miss Christmas gifts just waiting for you in a leaky container ship moored off Long Beach CA. (Prices subject to currency manipulators at the Federal Reserve.)
Void where prohibited by law. No warranties express or implied. See a doctor immediately for any unusual swelling, discharge, or fever. Batteries not included. Paid spokesman. Not authorized by any candidate or campaign committee. Do Not Remove This Label. Do not microwave. Epstein did not hang himself. Expert, texpert choking smokers, don't you think the joker laughs at you (ho ho ho, hee hee hee, hah hah hah).
---
Your Christmas wish book!
Gifts for that special Scrooge in your life.
UPDATE: Who doesn't want their family photos imprinted on a slice of Kraft processed American cheese? (Remove plastic sleeve first.)
Mesothelioma pamphlet included.
---
Grow a girlfriend kit requires white wine.
---
Start 'em young! Keep 'em happy!
---
---
Practice your voodoo needlework!
---
---
She'll think of you every time!
---
Just add water!
---
Not Christmas until Hans Gruber falls from Nakatomi Tower!
---
'Remember kids: Electricity will kill you!'
---
---
---
Your money back if you're not a Communist after playing this game!