Tried to retreat before trouble overtook him. 
Kyle Rittenhouse can thank the prosecution for making his case  — that he shot three people in self-defense. Testimony and FBI aerial video — presented by the prosecution! — showed that the teenager ran away from the belligerent who had threatened to kill him, was chasing him and trying to seize his gun.
That, it seems to the Werkes, is case closed. On the other hand, Kyle, now 18, would be in deep doo doo if he had subscribed to the modus operandi of a far-more experienced ally defending that used car sales lot in riotous Kenosha the night of 25 August 2020. Marine rifleman Jason Lackowski testified Friday (5 November 2021) that he would "Shout, shove, show, and shoot" if approached by an aggressor. "Show" his AR-15 weapon. The former Marine sharpshooter would be on steadier legal ground if he had added "try to avoid" before "shoot." Which is what will save Kyle Rittenhouse. He ran from trouble until trouble caught up with him. 
Wisconsin is a "Castle Doctrine" state but not "Stand Your Ground." The difference between the two can be more nuanced than a sociology professors exegesis.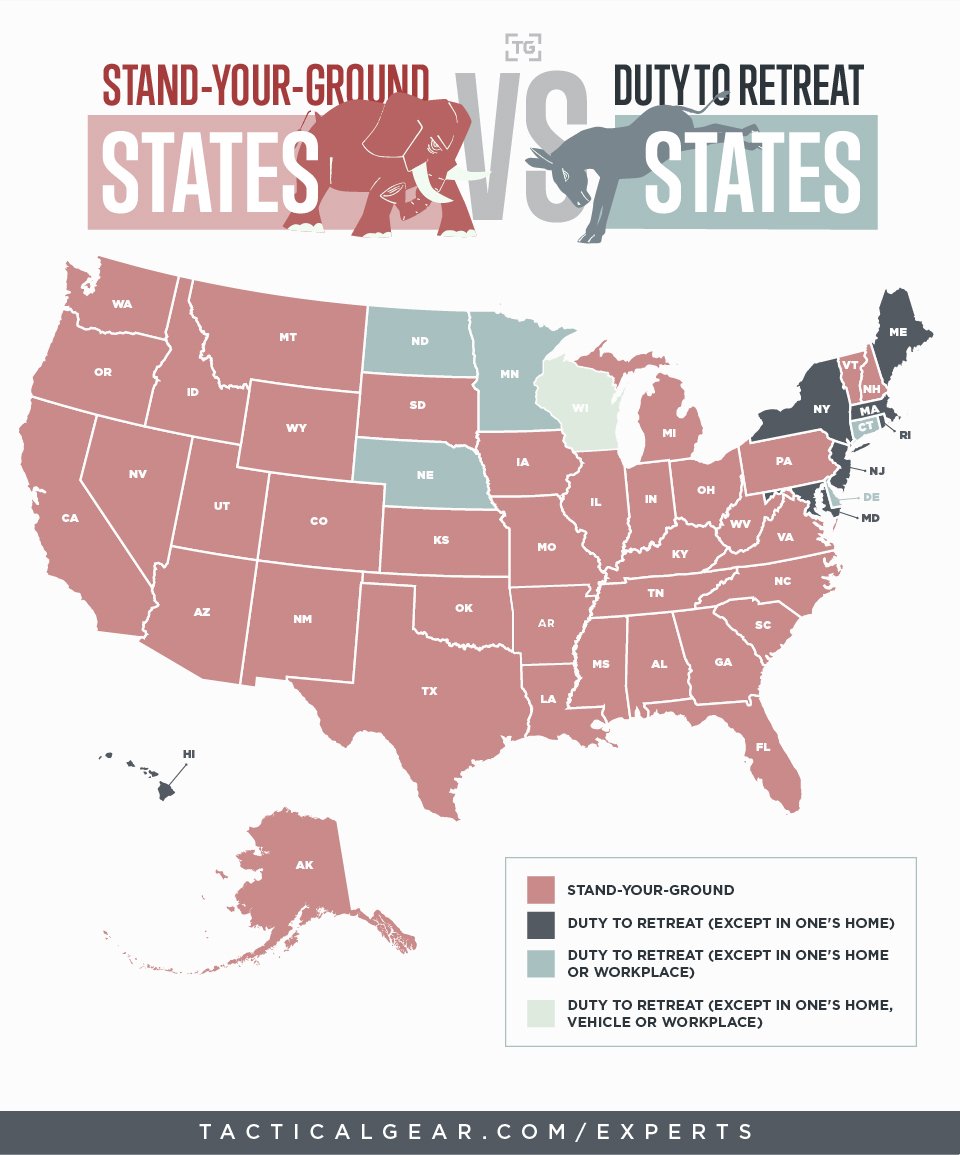 Wisconsin law allows lethal force if you reasonably fear being killed or injured. But you must make a reasonable attempt to avoid confrontation EXCEPT — this is where Castle Doctrine kicks in —if you are in your home, workplace, or vehicle. After all, you're in your own home; are you supposed to cower behind the shower curtain like the abducted wife in the movie Fargo?
Stand Your Ground goes a step further. You don't have to hide or make a run for it. (Florida does have Stand Your Ground; it exonerated George Zimmerman after he shot and killed Trayvon Martin in February 2012.)
On the evening of 25 August 2021, Rittenhouse was not in his home, not at work, nowhere near his vehicle when he fired the shots that killed two and injured one. Only after Joseph Rosenbaum ran him down and lunged for the defendant's weapon did Rittenhouse fire. Clearly, self-defense. That he turned himself in, better yet.
Nor does the law allow deadly force to protect your property, home, or business, defense attorney Thomas Grieve of Waukesha instructs.
"Deadly force is 'people defense,' not 'stuff defense'," Grieve tells the Werkes. "Let's say, you get home, no one else is inside and you see people throwing [things] at your house, it would probably be attempted homicide if you used deadly force against them."
→ The Grieve law firm hosts a great Wisconsin-specific gun rights website.
The defense describes Rosenbaum as the catalyst who caused the carnage. Described by several witnesses as "belligerent," he was also suicidal — "Shoot me! Shoot me!" he demanded— and apparently off his medications. Also threatened to kill Rittenhouse and witness Ryan Balch.
The second fatality, Anthony Huber (a man with his own criminal history) was whacking the defendant with a heavy skateboard. Photographs clearly show Gaige Grosskreutz (injured) carrying a handgun. The defendant had reason to fear imminent death or injury in all three shootings.
Judge Bruce Schroeder caught holy hell from the Woke mob for banning the term "victim" during trial. His ruling is not that much of an outlier. Grieve, one of the busiest criminal defense lawyers in the state, says that judges he faces increasingly grant his motion to ban the term. "It sets the chess board against the defendant."
Blaska's Bottom Line: If anyone is a victim, it is Kyle Rittenhouse and the city of Kenosha.