Or make history!
Hooray for Fred & Mary Mohs in selling (apparently) their properties along N. Carroll Street below market value to enlarge the WI Historical Museum (as reported in the WI State Journal). Few have been greater champions of downtown Madison. Downtowns are the beating heart of any city.
But we'll miss those storefronts between the Churchill Building (Madison's first high-rise, also known as the Gay Building — after the proper name of an individual) and the old Wolf Kubly Hirsig hardware store, which now serves as the museum. Those two three-story buildings are pedestrian friendly. Helps that they have multiple retail entry points (a long-standing camera store among them).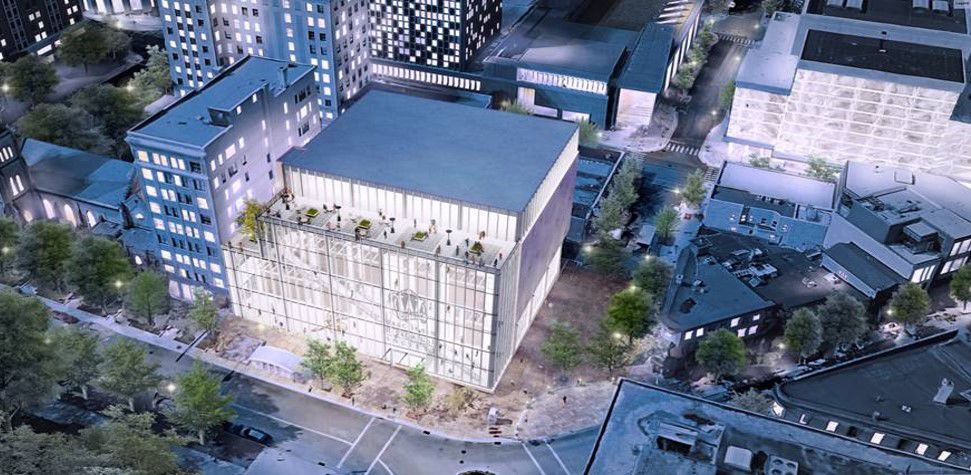 We're left rather cold by the mock-up of the boxy glassy building designed to replace it. Don't we already have "the glass bank" on the Square? Too bad the new structure won't replace the hideous, forbidding fortress-like GEF-1 building east of the Square. Down with brutalism!
Something that says 'Wisconsin'
Why not build Madison's new historical museum in whatever is Wisconsin vernacular? What would that be? Milwaukee has done well to emulate its Flemish-style city hall. Don't know how practical this is but how about something that evokes the classic Wisconsin red barn, fieldstone first floor topped by a gambrel roof? Admittedly, there would need be some setback to accommodate the volume needed. Danger that it would resemble a Cracker Barrel restaurant. (The Kastenmeier federal courthouse is patterned after a blue Harvestore silo.)
Or something sui generis like Prague's idiosyncratic Fred & Ginger building designed by architect Vlado Milunić and Frank Gehry. Speaking of Prague, isn't the architecture a prime reason people visit? (We did in 2007.)
Out with the new
The Werkes confesses a certain agnosticism to most buildings constructed after 1945. Has anyone improved on the federalist style? Greek revival? Is any government building in Washington D.C. more beautiful than the neo-classical White House?
The two N. Carroll Street buildings owned by the Mohs — longtime active Republicans — were built in 1905 and 1912.
On the Square, our two favorite buildings — aside from the Capital itself (1906-17) are old-timers: Grace Episcopal Church, built in the Gothic Revival style, looked across Carroll Street to the first Madison capitol when it was built in 1855); and the old American Exchange Bank (1871 in the Italian Renaissance style).
On the UW Campus, can you beat Bascom Hall? Music Hall? North Hall? All built in the 19th Century. The Wisconsin Discovery Building is one of the better newer buildings on campus. Best looking school buildings: East high (built 1922) and Randall elementary (circa 1914).
Blaska's Bottom Line: Quotes architect Daniel Burnham: "Make no little plans; they have no magic to stir men's blood."