Growing in a WI farm community
We know that Memorial Day is intended to commemorate soldiers who lost their lives defending our freedom. Pardon the indentured servants at Blaska Stately Manor for remembering the ancestors who sacrificed to begin our American chapter in December 1852.
Johan and Barbara (Skalitzky) Blaschke arrived in New York aboard the Jason out of Bremen, Germany with their three daughters. They were German-language speakers from the Sudetenland of Bohemia, 90 miles due east of Prague. After 15 months in Chicago they purchased 40 acres in the Town of Waterloo from the federal government at $1.25/acre. The deed was signed by President Franklin Pierce. The land was so poor the DNR has let it return to nature.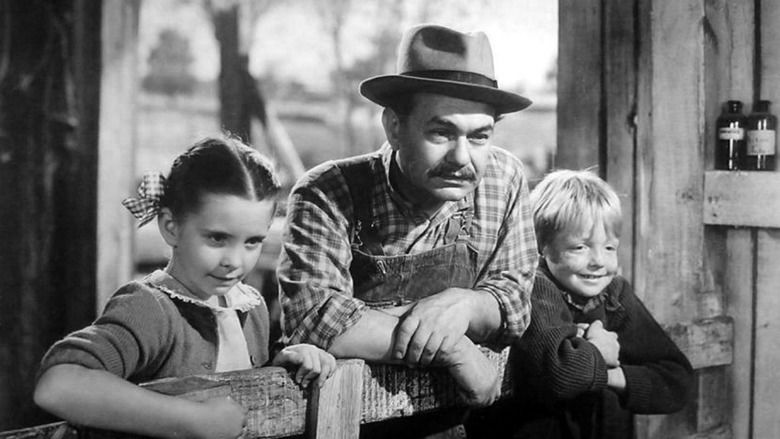 What put us in mind of family history is catching (on TMC) the movie Our Vines Have Tender Grapes, starring Edward G. Robinson as a Norwegian immigrant farmer and Margaret O'Brien as the daughter. Her performance is even more delightful than Meet Me in St. Louis, filmed the year before. This little movie is set in a Wisconsin dairy farm community in the present  time, which was 1945. Nothing much happens. Seven-year-old Selma cares for her prize Jersey calf. She and her little cousin get swept up in a spring-melt flood. She sees the circus elephant in a late-night stopover in their town. A neighbor's barn burns down and the little girl sets an example (plot spoiler) by donating the calf to restart the neighbor's herd.
Deeply moving without being preachy. The larger community shuns a mentally ill girl. Pa explains, in effect, the just war theory of that most just of wars then raging. And a little birds and bees. Selma marvels at the good fortune of a just-married neighbor:
"God was awful good to her, though. … Some people have to wait for many, many years before He sends them a baby, and everybody said Ingeborg only had to wait a couple of hours."
After Selma shames the congregation into giving more than a few coins to the burned-out farmer, the family walks into the awakening spring countryside.
"Grass is growing," Pa comments. Selma: "I'm growing, too." Pa: "We're all growing."
The old neighborhood 
Was astounded to discover that the film's "Fuller Junction" was really Benson Corners (Highway 161 and County Hwy T) (aka P.O. "New Hope") where the wife of the book's author grew up. The actual Selma. (More here.) The tiny crossroads is maybe a half mile north of where our great-great grandparents bought 120 acres in 1859 after leaving Jefferson County. It's in Portage County 17 miles east of Stevens Point. Although "Tender Grapes" is set in the real time of the 1940s, the Jacobsons still farmed with horses and milked by hand. When the 5-year-old nephew wishes for an electric train for Christmas, Selma reminds they don't have electricity. Or indoor plumbing. Same as 90 years earlier and not all that anachronistic for its time (although one suspects the author transferred his wife's memories of 20 years earlier. Rural electrification did come to Wisconsin in the 1930s).
Church figures in the story; my guess is it's Lutheran, they being Norwegians. Portage County is an American melting pot. Or, perhaps, a mosaic.
After some sleuthing, the head groundskeeper located the burial place for his great-great grandparents and their youngest daughter (appendicitis would kill you in the 1870s)— at St. Martin's Church (now closed but well preserved) in a crossroads called "Ellis," on WI Hwy 66 — 14 miles NW of Benson Corners. That church, the Portage County historical society tells, was founded by a Polish priest to serve the German and Irish communities. A few years later, the Poles built a church a little bit down the road. Unfortunately, it was also across from a tavern. The Portage County Historical Society relates:
Pious Catholic mothers shepherded their children to Mass, while their less devoted husbands joined the riotous gang of frontiersmen at the bar. Throughout the late 1860s, as more settlers moved to the area, the gang grew large and loud enough to disturb the services. … The situation grew so serious that, between 1868 and 1870, Green Bay Bishop John Melcher refused to allow Catholic services at St. Joseph's.
Two years later, the Polish priest announced during Mass that the church would be disassembled and moved.
A gang opposed to the move threatened the workers with angry words, axes and stones. One woman threw herself on the church bell after it had been removed from its tower and set on the ground. She clung to the bell and shouted insults at Dabrowski's supporters. Through it all, Pastor Dabrowski urged his people to remain quiet and keep working. In a week, they took the church down, loaded it onto wagons and moved it off to the hilltop that Dabrowski had christened Polonia.
There followed a series of mysterious fires more sinister than the lightning that struck the Jacobson's neighbor, all related by the Portage County history people.
Blaska's Bottom Line: Which seems to say the human race will fight about anything close at hand, whether race, religion, ethnicity, or politics. Would like to think we're still growing.