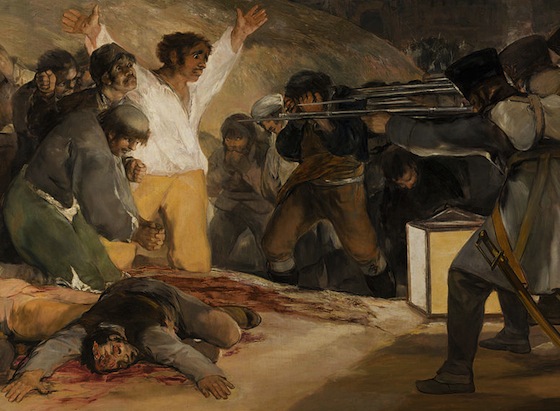 The Battle for the Soul of our Party
Chronicling a political party intent on destroying itself by shrinking the tent
---
Cassidy Hutchinson testified that White House counsel Patrick Cipollone saying to the chief of staff:
"Mark, we need to do something more. They're literally calling for the Vice President to be F-ing hung." Mark responded soothing to the effect, of, "You heard him, Pat. He thinks Mike deserves it."
---
Patrick Cipollone to conspirators: "At some point, you have to put up or shut up."
---
Conservatives applaud Liz Cheney
at Reagan Library
---
'We have lots of theories, we just don't have the evidence.'
With a little help from his friends!
---
Pick your subject! The Werkes blogges it!
---
Are you watching the January 6 committee hearings?
The Republican Accountability Project is launching an ad campaign airing Wednesday on television and digitally in Arizona, Georgia, Michigan, Ohio, Pennsylvania, and Wisconsin to encourage viewership of the House Committee's January 6 public hearings.
---
To save America, the GOP has to save itself
"Democrats have spent a year trying to re-engineer the U.S.
economy, redraft the nation's social compact, and remake its political and legal institutions, all on the back of an imaginary electoral mandate. …. "But in the first week of this year we look backward as well as forward —
to the violent attempt a year ago to overturn the result of the presidential election.
The Jan. 6 riot was a disgrace
— as the riots of the previous summer were a disgrace — and
continued attempts by many Republicans to play it down, ignore it or even pretend it didn't really happen are a lingering cloud
over the right's own claims to the democratic process. "It's important to say again that those primarily responsible for it are not the rag bag of misguided individuals caught up in a protest, the cast of character actors who seemed to think they were living out some fantasy flick, or even the apparently small cabal of genuine insurrectionists.
The primary responsibility lies with the man —

the President

—who armed them with the false information
: the allegations of a "stolen" election that led them to the Capitol in the first place." —
Gerald Baker, editor at large
,
Wall Street Journal.
"He's got to condemn this sh** ASAP!"
— Donald Trump Jr. to the President's chief of staff, Mark Medows, as Trump supporters smashed their way into the nation's Capitol on 6 January 2021.
National Review writes:
The riot at the Capitol happened because President Donald Trump simply lied, and lied, and lied. On that very day he lied about what the vice president's powers were. "All Vice President Pence has to do is send it back to the states to recertify, and we become President, and you are the happiest people," he told the crowd.
Presidents have a duty to protect the Constitution; on that day Trump was subverting it. Even as the ugly scenes were unfolding, Trump seemed to be instigating the crowd even further, as if he were trying to put more coercive pressure on his own vice president. He tweeted:
"Mike Pence didn't have the courage to do what should have been done to protect our Country and our Constitution, giving States a chance to certify a corrected set of facts, not the fraudulent or inaccurate ones which they were asked to previously certify. USA demands the truth!"
---
Successful politics is addition and multiplication, not subtraction and division.
— Former Mississippi Gov. Haley Barbour
Critical race theory central
Your WI Department of Public Instruction
"Applying an Equity lens to … academic development. … discipline practices and policies … are disproportionately used to punish students of color and marginalized youth." (DPI link here.)
---
"Here, we openly examine the way that our own culture shapes what we value, what we assume to be "right" or "wrong", and how we act on those values and assumptions. As schools have historically reflected the norms of the dominant culture, those of us of the dominant race or culture need to work especially hard to examine power, privilege and bias, to see the invisible." (DPI link here.)
---
Evaluate students regularly for multicultural learning. Test students on diversity knowledge and weigh it when grading papers and other assignments. Survey students on course inclusion of multicultural content. (DPI link here.)
---
10 things every white teacher should know when talking about race
While teachers of color are certainly welcome to listen to this episode, I probably don't have much to teach them. They're miles ahead of me and most of us as white people, because their survival and success is dependent upon them understanding the racial "rules" in this country. (DPI link here.)
---
"Implicit biases can be difficult to identify because not only are they unconscious, but oftentimes those who hold the biases are well-intentioned." (DPI link here.)
Mike Gableman is getting to the bottom of Wisconsin's stolen / mismanaged presidential election in which Donald Trump under-performed the non-presidential Republican vote
---
Donald Trump's hostage politics
He says Republicans must agree the 2020 election was stolen or he'll aid the Democrats.
When Democrats complain that Donald Trump is plotting to suppress votes, they have a point — but fortunately for them, the votes he is plotting to suppress are those of his own supporters.
That was evident in January this year in the two Georgia Senate runoffs. Turnout in Republican strongholds fell because Mr. Trump told his voters the election in November had been stolen and the state's GOP officials were corrupt. …
Now the former President … might repeat this act of electoral sabotage in the next national elections. "If we don't solve the Presidential Election Fraud of 2020 (which we have thoroughly and conclusively documented)," Mr. Trump said in a statement 10-13-21, "Republicans will not be voting in '22 or '24. It is the single most important thing for Republicans to do." — Wall Street Journal.
Trump really did lose Arizona
Not even Cyber Ninjas could pull his chestnuts out of the fire!
The Arizona Republic 09-24-21:


A months-long hand recount of Maricopa County's 2020 vote confirmed that President Joe Biden won and

 the election was not "stolen" from former President Donald Trump

, according to early versions of a report prepared for the Arizona Senate.
The three-volume report by the Cyber Ninjas, the Senate's lead contractor, includes results that show Trump lost by a 

wider margin than the county's official election results

. The data in the report also confirms that U.S. Sen. Mark Kelly won in the county.
New bombshells show Trump's coup threat was real and hasn't passed
Trump had blueprints that the Republicans tried to use to prevent Congress from certifying President Joe Biden's clear and genuine victory, in the form of a memo that laid out a plan for then-Vice President Mike Pence to thwart Biden's Electoral College triumph. The memo was reported in the new book Peril, by Washington Post reporters Bob Woodward and Robert Costa, and was later obtained by CNN.
Trump's own campaign staff knew that outlandish claims of fraud made by the then-President's lawyers were utterly false, according to a report in The New York Times. But they did nothing to stop his dangerous allegations.
Trump sent a letter full of false information to Georgia Secretary of State Brad Raffensperger, asking him to start the process of decertifying the 2020 election.
---
RonJon says:
Donald Trump just plain lost the election!
U.S. Sen. Ron Johnson recently said "There's nothing obviously skewed about the results" of the 2020 presidential election.
Johnson told a liberal activist posing as a conservative that former President Donald Trump lost the election in Wisconsin because he didn't do as well as other Wisconsin Republicans on the ballot in November.

"Collectively, Republicans got 1.661 million votes, 51,000 votes more than Trump got. Trump lost by 20,000. If Trump got all the Republicans, if all the Republicans voted for Trump the way they voted for the Assembly candidates … he would have won. He didn't get 51,000 votes that other Republicans got. And that's why he lost."
---
Moving on from 'quite a character'
"Progressives think that hating not only Mr. Trump but all conservatives settles their debts and cleanses them of sin. …
"Mr. Trump is to blame for much of this. Character is destiny, and Mr. Trump was quite a character. He gave his enemies the gift of Jan. 6. He played peek-a-boo with forbidden thoughts. He tossed cherry bombs at the Constitution to see if he could give it a scare. Whatever else one may say about Jan. 6, it was one of the stupidest afternoons in American history. …
"Mr. Trump … is a burnt-out case, an exhausted volcano, in Disraeli's phrase. Let Palm Beach have him.
"The Old Believers don't need Mr. Trump. If they are smart — and lucky — they will find someone who is capable, as Mr. Trump was not, of defending the country's civic sanity, decency, democracy, and freedom of speech and thought. That hero has yet to emerge." — Lance Morrow, Ethics and Public Policy Center.
'All that was necessary …
". . . to avoid this multitude of Biden administration / Democrat / leftist fiascos was for Donald Trump to behave like a leader, gentleman, and statesman for about two months before and after the 2020 election. He couldn't do it." — John Welch of Huntsville AL, letter to Wall Street Journal.
Paul Ryan warns against cult of Trump
Paul Ryan to the Ronald Reagan Foundation and Institute 05-27-21:
"Once again, we conservatives find ourselves at a crossroads. And here's one reality we have to face. If the conservative cause depends on the populist appeal of one personality, or on second-rate imitations, then we're not going anywhere. Voters looking for Republican leaders want to see independence and mettle. …
"We win majorities by directing our loyalty and respect to voters, and by staying faithful to the conservative principles that unite us. This was true even when the person leading our movement was as impressive, polished, and agreeable as they come." … [Ronald Reagan, anyone?]
"In 2020, the country wanted a nice guy who would move to the center and depolarize our politics. Instead, we got a nice guy pursuing an agenda more leftist than any president in my lifetime. These policies might have the full approval of his progressive supporters, but they break faith with the middle-of-the-road folks who made the difference for him on Election Day.
"For conservatives, this painful existence as the opposition can actually be an opportunity. Out of these years can come a healthy, growing, and united conservative movement, a movement that speaks again to the heart of a great nation."
(Courtesy of The Dispatch.)
Trump is helping Biden
Andrew C. McCarthy, National Review:
Liz Cheney is right: It is patently obvious that President Trump lost the election.
His continuing prominence in GOP politics, and the fact that he could conceivably win the Republican presidential nomination in 2024, could cost the party crucial, winnable elections, even beyond the damage he has already done by singlehandedly losing the two Georgia Senate seats for the Republicans, and hence their Senate majority — thus turbocharging the woke progressive agenda he says he opposes. …
Cheney is right that, for the GOP going forward, Trump is a no-win proposition. But former Trump supporters who already know that don't need to be told. Trump diehards who haven't yet figured it out are not ready to hear it — and they are not going to be hectored into acceptance by someone who has made herself into the anti-Trump. It plainly is not helping Cheney that Trump has conveyed to his fans that her contempt for him is really contempt for them — even if the reality is that Cheney is the one trying to protect those people from the Democrats' agenda while the former president, however inadvertently, has enabled that agenda by his self-absorbed recklessness.
Posted on May 12, 2021 by David Blaska
'I do not withdraw a single word'
---
"A former president, who provoked a violent attack on this capitol in an effort to steal the election, has resumed his aggressive effort to convince Americans that the election was stolen from him. He risks inciting further violence. Millions of Americans have been misled by the former president. They have heard only his words, but not the truth, as he continues to undermine our democratic process, sowing seeds of doubt about whether democracy really works at all." — U.S. Rep. Liz Cheney, R-WY 05-11-21.
---
We're reading Andrew Roberts' great bio Winston Churchill; Walking With Destiny.
It is 30 September 1938. Neville Chamberlain has returned to London from Munich, waving a scrap of paper. He had just given away democratic Czechoslovakia, its mountain defenses and significant armaments industries, to Adolph Hitler — free of charge — and he was damned proud of it.
King George VI invited the P.M. to share his balcony and accept the adulation of the crowds. Chamberlain was being likened to Disraeli and Gladstone for appeasing the dictator and forestalling his wrath.
In the House of Commons, a back bencher bucking his own party leaders, Churchill marshaled the English language and sent it into battle (as was said of him many years later).
"I begin by saying the most unpopular and most unwelcome thing. I begin by saying what everybody would like to ignore or forget but which must nevertheless be stated, namely, that we have sustained a total and unmitigated defeat. … The German dictator, instead of snatching his victuals from the table, has been content to have them served to him course by course."
Not conservative or even Republican
Just Trump cultism
Elise Stefanik's takes over from Liz Cheney the Number #3 post in the U.S. House of Representatives because she subscribes to the cult of personality, that being Donald Trump. Doesn't matter the honorable member has one of the least conservative voting records in the caucus.
Her lifetime score from the conservative group Heritage Action is a mere 56%, compared with Cheney's 91%.
Cheney voted with Trump 92.9% of the time, while Stefanik voted with Trump just 77.7% of the time. Indeed, Stefanik steadfastly opposed key elements of the Trump agenda. She voted against Trump's singular legislative achievement — his 2017 tax reform bill — and against making his tax cuts permanent. She voted to block Trump from withdrawing from the Paris climate accords. She voted to condemn Trump for calling on the courts to invalidate the Affordable Care Act. She voted to overturn Trump's emergency declaration at the southern border so he could fund the border wall, and then voted to override Trump's veto of a bill that reversed his emergency declaration. — the Dispatch
---
G.O.P.does not stand for Get Out and Purge.
the Werkes admires Liz Cheney as a profile in courage. If she has to go as Republican conference chair, so be it. Politics ain't fair. Yes, we need the MAGA folk in our party. Blaska does not purge.Joe Stalin purged. Mao, Saddam, and Pol Pot purged. In contrast, real Republicans like Tommy Thompson preached: build the tent!
"The 2020 presidential election was not stolen. Anyone who claims it was is spreading THE BIG LIE, turning their back on the rule of law, and poisoning our democratic system." — Liz Cheney, R-WY
Liz Cheney may be ousted — a sad reflection on the GOP
"Liz Cheney doesn't believe the election was stolen and sees Trump's ongoing efforts to deny the legitimacy of the election as a bad thing for her party and for the country. And she is willing to say so. Not just once during a brief moment when it was popular for Republicans to say so. But repeatedly — when asked about it in press conferences, and in talks, and in tweets when not directly prompted by a reporter. This is inconvenient for her party.
"In a normal world, the party might actually reconsider fealty to Trump. After all, had Trump simply acknowledged defeat last November, Republicans would have had a good chance of maintaining at least one Georgia Senate seat. And they could have united in opposition to President Biden's agenda."
Recrimination is not a winning message. More here.
Combatting stupidity
Republican Rep. Peter Meijer has a warning for his party: He fears baseless conspiracy theories like QAnon will destroy the GOP from within if Republicans don't decisively and unequivocally condemn the false and dangerous beliefs and take action to stop their spread.
"The fact that a significant plurality, if not potentially a majority, of our voters have been deceived into this creation of an alternate reality could very well be an existential threat to the party.
QAnon is a sprawling far-right conspiracy theory that promotes the absurd and false claim that Trump has been locked in a battle against a shadowy cabal of Satan-worshipping pedophiles made up of prominent Democratic politicians and liberal celebrities. Members of the violent pro-Trump mob that stormed the Capitol had ties to QAnon, and the conspiracy theory has made its way from online message boards into the political mainstream in recent years.
Let the purge begin
Who will succeed Republican U.S. Sen. Rob Portman of Ohio?
Morning Dispatch examines former Ohio treasurer Josh Mandel. He has the name I.D.and cash. He ran for Senate twice already. But Mandel has gone all Lin Wood and Sidney Powell conspiratorial.
The presidential election? "Stolen."
Ohio GOP Chair Jane Timken? A "weathervane" and a "turncoat."
Rep. Anthony Gonzalez? "Traitor."
Ohio's Republican Gov. Mike DeWine? "Total squish establishment failure."
A campaign pitch is captioned "HUNTING RINOs IS FUN."
His Twitter account was temporarily suspended after he asked his followers which type of "illegals" commit more crimes: "Muslim Terrorists" or "Mexican Gangbangers."
Mandel's recent turn is alienating some longtime allies, The Dispatch reports. "I was lined up to be a supporter of his campaign. I don't know what I'm going to do now, just based on some of the crap that he's done over the past couple of weeks. It's really disheartening to see."