Heroes still walk among us
There are people this morning fretting about the quadrillion-dollar infrastructure bill or vowing retribution for the Stolen Election of 2020. We say piffle and balderdash! (We can say that because we got a good Catholic schooling before critical race theory dumbed down education.)
PHIL! Mickelson won the PGA tournament Sunday, May 23, 2021 — a day that will LIVE … in ecstacy!
Years from now, people will ask: Where were you when PHIL! won the PGA tournament? The entire staff and management of the Werkes can say: In front of the wide-screen, high-def TV, of course!
No need to thank Squire Blaska and the Lovely Lisa for PHIL!'s win. PHIL! is into meditation and deep consciousness, so the indentured servants donned imaginary saffron robes and went all Zen Buddhist. We intoned "OMMMMM!" and "INNN the HO-Oh-oh-oh-lllllll" over his shots. Swear our Sony liquid crystal display TV vibrated all the way to Kiawah Island SC when PHIL! birded the 5th hole from the "sand area."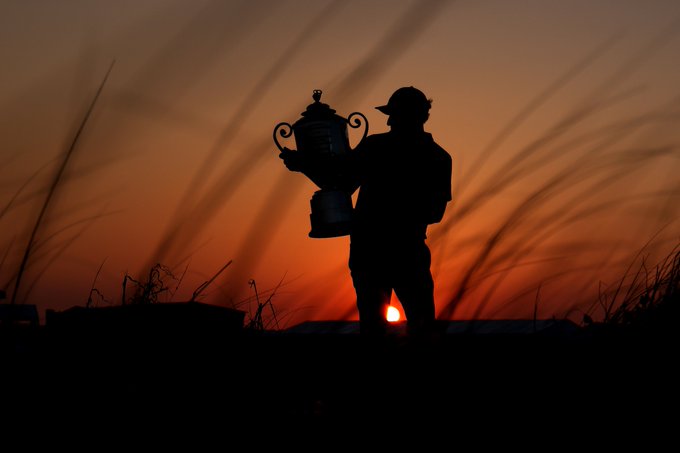 Who else but PHIL! gives the ball to a kid all crippled up in a wheelchair? Not even Mother Theresa, we would wager. Speaking of saints, his win in the PGA tournament on Sunday, May 23, 2021 should qualify as a miracle. The miracle of the "sandy area." We're guessing that after PHIL! left for the next tee that crippled up kid in the wheelchair got up and walked over to the practice range and hit a bucket. Hallelujah! and FORE!
Who else but PHIL! can hit a ball under a golf cart wheel one swing (to prove that he came down to us in human form and knows suffering) and pull off the Miracle of the Sandy Area the next? How many signs do you non-believers need?
Does golf have a patron saint? Pope Frankie One should give PHIL! a dispensation. (Don't know if he is Catholic but is Christian.) PHIL! would be the first non-Catholic patron saint of golf. Another First to being the oldest winner of a major! 50 years, 11 months, 24 days. Yet hits the longest drive of anyone on the 16th hole — 366 yards. Your bloggeur can't even see that far. Best of all, no one saw it coming! PHIL! was a has-been, well past his prime. Last major win 8 years ago at the (British) Open. (Padraig Harrington, the smiling Irishman and three-time major winner, tied for fourth place. Age 49.) 
No face masks! Looks like Freedom!
The most unforgettable scene was the masses following PHIL! up to the 18th green. They wanted to touch the garment. "Slightly unnerving," PHIL! admitted at the awards ceremony. "But exceptionally awesome."
---
Role models, anyone?
We noticed that PHIL! has lost his love handles. This inspires the head groundskeeper of the Par 1 Stately Manor course to lose a few pounds of his own. That should count as another miracle, if Pope Frankie One is counting.
We don't mean to be sacrilegious here (he wrote, nervously glancing upwards), but even us revered opinion leaders need a little inspiration every now and again. We admire courage and determination. Golf doesn't do "Equity." You got to deliver. Golf is unfair. (Who put that pond there?) It can be cruel. (Had a good round going and now can't find the ball.) A well designed course will bring world class athletes to their knees. Where was Dustin Johnson? Left in the dust. And Justin, Rory, Jordan, Bryson?
Blaska's Bottom Score Card: So there's the age thing for us superannuated armchair athletes. Like we said, inspiration. Yeah, sports figures should be heroes — not by what they say, necessarily. Anyone can take a knee at the Anthem. But by what they do and how they live their lives.