It's a little appreciated (for good reason) Christmas tradition here at the Stately Manor: our gray lab coat-approved Christmas giving catalog. These are gifts truly better given than received.
It's hard to Ho Ho Ho without stressing out the Covid-wary who mask up while driving solo in their automobiles. Here's the solution:
Ever try to light up while dodging the protestors on Madison's Beltline Highway? Think of it as a safety device. (May be back-ordered to about 1955.) Cancer sticks and ashtray not included. Also suitable for office desks.
You're (the contraction for you are) asking, but what about my goat?  Now you can bring little Billy along! (Back ordered through 1950.)
Teach your kids about the Constitution, especially the Second Amendment. And, yeah, all boys DID want a .22 Back In The Day. (Good luck finding ammo these days.)
Who couldn't use a little beauty in their lives? Especially when it's 3-D! And all-natural! (Take our word for it because the advertisement is in glorious black and white.)
Prepare your kids for a job in the Evers/Biden administration.
Light up your Christmas tree but don't let Tony Evers see it!
Wouldn't be Christmas without Cousin Eddie.
Hey sports fans! Everyone knows we cheer for our favorite sports teams because they are named after that which we despise. If Cleveland can change the name of its baseball team, what's to stop the Colts from changing the name of their city (Indianapolis)?
Know anybody in California? (Hi Rich, Margaret, and Jax!) Give them something they can really use.
Putting Hey-Soos back in Christmas, "This hipster nativity scene comes complete with an organic cow eating gluten-free food, suspender-wearing wisemen holding Amazon Prime gifts on Segways, and Mary and Joseph taking a selfie with baby Jesus "fresh off a Whole Foods shopping spree." (Burning hillside not included.)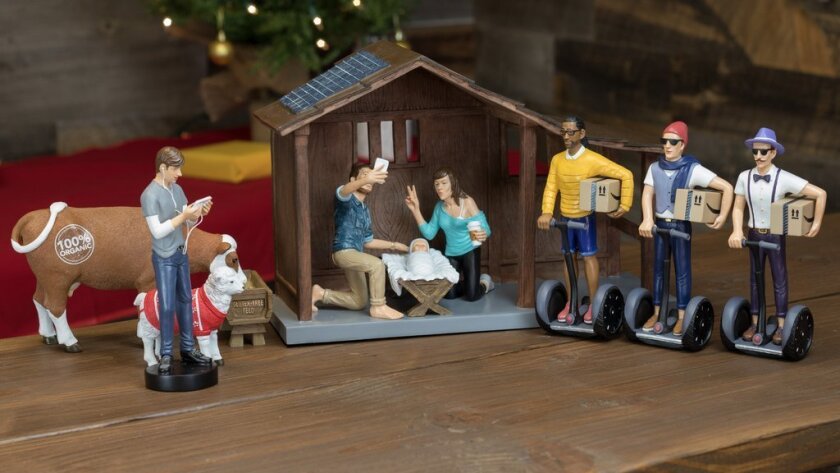 Our Bottom Line: On behalf of the indentured servants at the Stately Manor, unlettered field hands of the Experimental Work Farm (and Penal Colony), and gray lab coats of Blaska Policy Werkes, the head groundskeeper wishes all a Merry Christmas! (Yes, even Lesiak.)